The Rural Community Energy Fund (RCEF) supports rural communities in England to develop renewable energy projects which provide economic and social benefits to the community.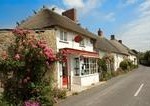 How the Fund Will Work
The fund will provide up to approximately £150,000 of funding for feasibility and pre-planning development work to help projects become investment ready. RCEF provides support in two stages:
Stage 1 provides a grant of up to approximately £20,000 to pay for an initial investigation into the feasibility of a renewable energy project.
Stage 2 provides an unsecured loan of up to approximately £130,000 to support planning applications and develop a robust business case to attract further investment.